Peak Class Changes
---
Avoid the traffic by taking note of the times below that indicate highest pedestrian, bicycle, and vehicle traffic time on campus.
Monday, Wednesday, and Friday:
7:40 - 8:00 a.m.
8:50 - 9:10 a.m.
10:00 - 10:20 a.m.
11:10 - 11:30 a.m.
12:20 - 12:40 p.m.
1:30 - 1:50 p.m.
2:40 - 3:00 p.m.
3:50 -4:10 p.m.
5:00 - 5:20 p.m.
Tuesday and Thursday:
7:40 - 8:00 a.m.
9:15 - 9:35 a.m.
10:50 - 11:10 a.m.
12:25 - 12:45 p.m.
2:00 - 2:20 p.m.
3:35 - 3:55 p.m.
5:10 - 5:30 p.m.
---
Plan Ahead
Please be sure to give yourself plenty of time to get to campus, park, and get to class or work! You can also utilize the helpful resources and tips below, before you travel to campus.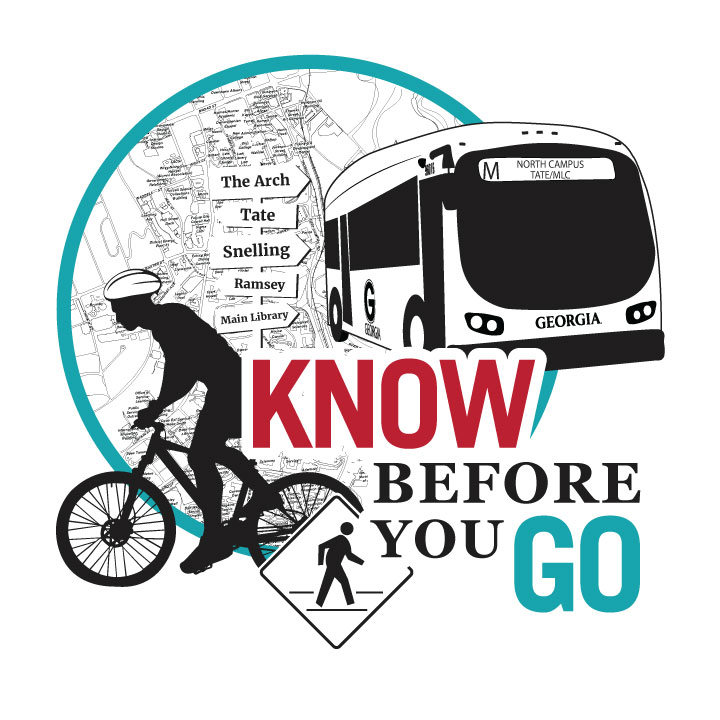 Utilize the increased time between classes – with 20 minutes to get to your next class, alternative modes of transportation, like walking, are often a much faster way of navigating campus.
Use the Campus Map to find routes – the UGA app includes a Campus Map feature that helps you quickly find point-to-point walking routes.
Easily find bike racks ­– Check out UGA's bike rack map to find the most convenient place to park a bike.
Use the bike racks on the buses ­– All UGA buses are equipped with bicycle racks allowing individuals to commute to campus by bike, or use their bike to get around, but also utilize our buses if they choose to do so.
Familiarize yourself with bus routes – familiarize yourself with bus stops and route names by viewing our routes online and looking at our interactive route map.
Live track the buses – download the UGA app or visit our website to live track our buses and their routes as well as get a street-level view of our bus stops.
Use Deck Check to see available parking – Deck Check, available on the UGA app, allows you to see how many parking spots are available in select lots.
Download ParkMobile for hourly parking – if you plan to park in an hourly parking lot, go ahead and download the ParkMobile app for fast, convenient, and contactless payments.
Utilize the Bulldog Bike Share - The Bulldog Bike Share offers an easy way to travel around campus while avoiding traffic and reducing emissions from single-occupancy cars. Riders can download the app to register, locate, and unlock the bikes. Please note that Bulldog Bike Share bicycles are not allowed on UGA bus bike racks.
Many of these resources are available through our UGA Mobile App, in addition to online. Download the UGA Mobile App (available for iOS and Android) for quick and easy access to these, and many other helpful features.
---