Pedestrian Safety
---
As a pedestrian on campus, there are rules and regulations for how to safely navigate streets and sidewalks. Just like cars and bicycles have laws, so do pedestrians. Georgia Law states that if there is a sidewalk, pedestrians must use the sidewalk and not enter the roadway.
If a sidewalk is not available, there are additional safety precautions that pedestrians must consider. If there is no sidewalk, a pedestrian should walk or run against oncoming traffic, and be as close to the outside edge of the roadway as possible.
For more information, please see GA Code § 40-6-96 (2020).
---
Walking Routes
Quickly find point-to-point walking routes by using the Campus Map feature on the UGA app.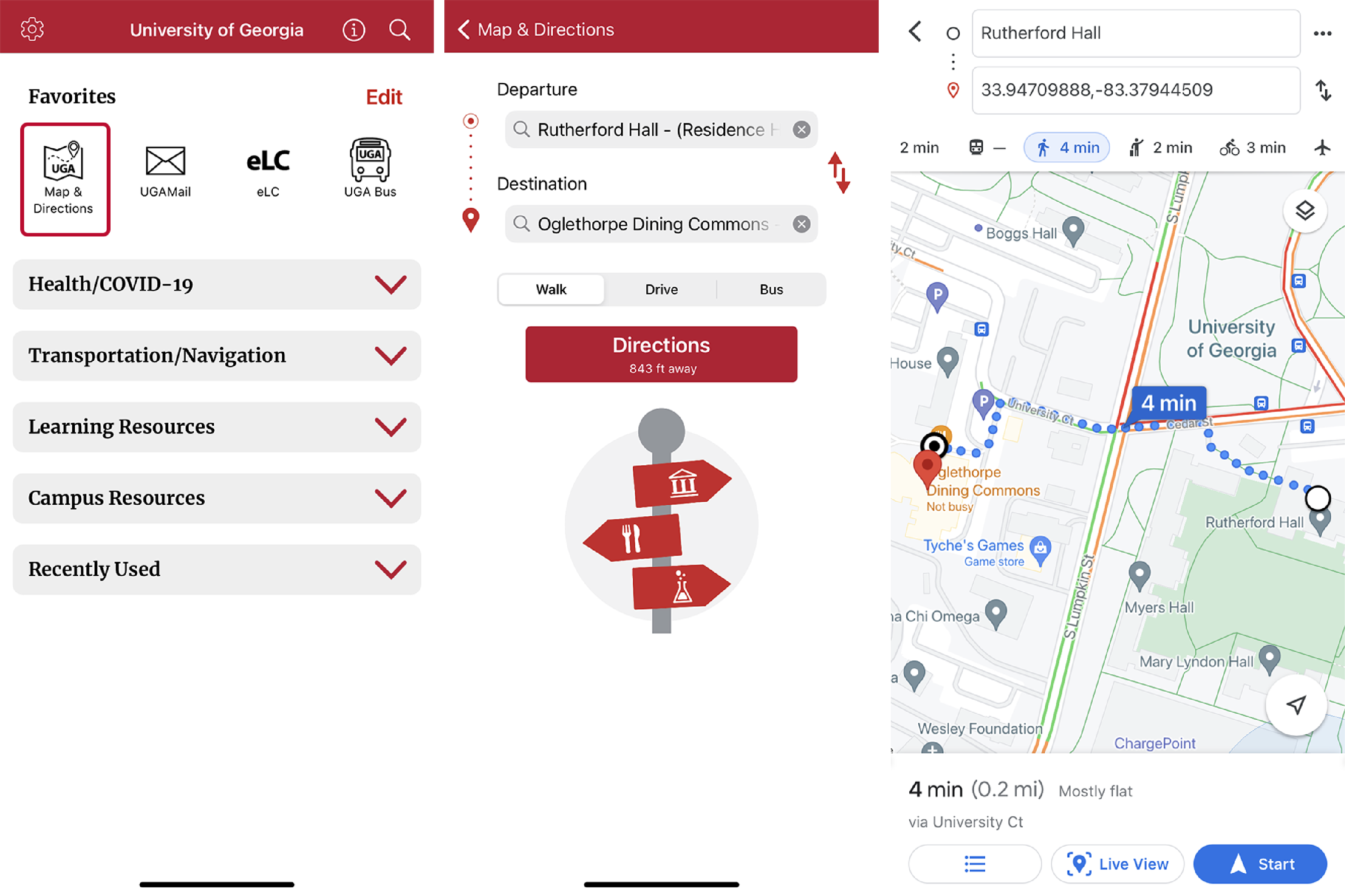 ---
Be Aware of Your Surroundings
Looking down to read a text or listening to music through ear buds creates distractions and presents a safety hazard. Keep your head up by putting down your phone and taking out your earbuds when walking.
Safety Tips:
Stick to designated walkways whenever possible
In 2017, 73% of pedestrian fatalities did not occur at an intersection
Stay visible when walking at night*
In 2017, 75% of pedestrian fatalities occurred in the dark
Avoid walking near traffic when under the influence of alcohol
36% of pedestrians killed in traffic fatalities in 2017 had a blood alcohol concentration of at least .01
*Recent research demonstrates that adding reflective materials at the joints of the body (elbows, knees etc.) will lead a driver's eyes to pick up on the motion of the reflective patches and identify a cyclist or pedestrian as a person much more effectively than with reflectors on the torso (as with a safety vest).
---
References
National Center for Statistics and Analysis. (2019, March). Pedestrians: 2017 data. (Traffic Safety Facts. Report No. DOT HS 812 681). Washington, DC: National Highway Traffic Safety Administration